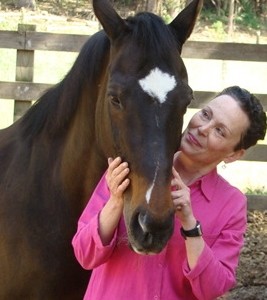 Sean Senechal, MA, BCBA, Founder and Director of Research/Education AnimalSign, ABA Language and Behavior Consultant, University Psychology/Physiology  Instructor

MY MISSION and PASSION has been to enable animals (dogs, horses, cats, elephants, and more) to communicate their thoughts, perceptions, and feelings. Wanting to understand their cognition better in a scientific, practical, and personal way, I started AnimalSign to develop and teach the methods to others.
Now, I see the need to continue this in a formal, systematic, and evidence-based way to be able to show the wonderful effects of learning more language has on animals. Systematically devising, teaching, and studying these methods, and their effect on the animals, for animal expression is being pursued uniquely by AnimalSign. www.animalsign.org
With more language tools, dogs can ask for what they want and need, they can alert specifically, working dogs can communicate more on the job. These tools can help people and animals bond and build better relationships. Zoo or captive animals can have not only clear expression of their wants and needs, but enrichment through a language game.
Animals try to communicate, but are most often told not too, so they will resort to many other ways of indirectly communicating. Many people have learned about the animals natural communications and thus can have some conversation or at least understanding of the animals' expressions. Humans have developed expanded communication system (writing, speaking, signing) to develop our children's brains and capacity for detailed communication. This has proven quite valuable and is fulfilling. Some children can't verbally communicate, so we have other means for them to express their thoughts, feelings, and intelligence. Children using these have blossomed. I have wanted to provide and train animals in various tools so they too could better express themselves, potentially develop their language brain, and be better understood in daily life, and as a communicative species.
SEAN SENECHAL (click here)

PRINCESS! The Signing Horse:
Inspiration and first student of AnimalSign.
 CHAL, a German Shepherd, helped create K9Sign for dogs.
STARLIGHT, a Border collie, helped modify, and develop the TAP, PECS, and PICS approach to communication.
PASTEL and VELVET, ANGELFUR, the cats. Pastel is still with us at 16 years.